What makes a great trip? I believe the definition of a great trip would change from person to person. If you are a regular reader of my blog you already know about the recent Udaipur travel tour we made. There are a series of posts on my blog already that tell you about the different places we visited during our trip. It was a great trip, something that both I and Sarah would remember.
Do you ever realize that deciding the destination is the hardest thing to do? Now, Sarah and I are not travelling extensively throughout the year, but we do what we could afford. No one is paying our bills, but us. However, choosing one place becomes a hard task. Should we choose the mountains or the beach, the northern side or down south? The choices are endless, but our budget isn't.
So, what's Udaipur travel has to do with all this, you ask? Well, I'm coming to that point. The reason I'm writing all this is that I believe eventually every great trip becomes memorable because of the 'people'. Yes, there are people who like to escape from the cacophony of life, but then you end up meeting a few people on your journey. Hence, when you return home these 'people' become part of your travel memories.
When you browse the internet, I'm sure you will find plenty of sites talking about places to visit in Udaipur and local attractions. However, you find practically none about these 'people' that are in some way work 'behind the scenes' to give you that overall experience.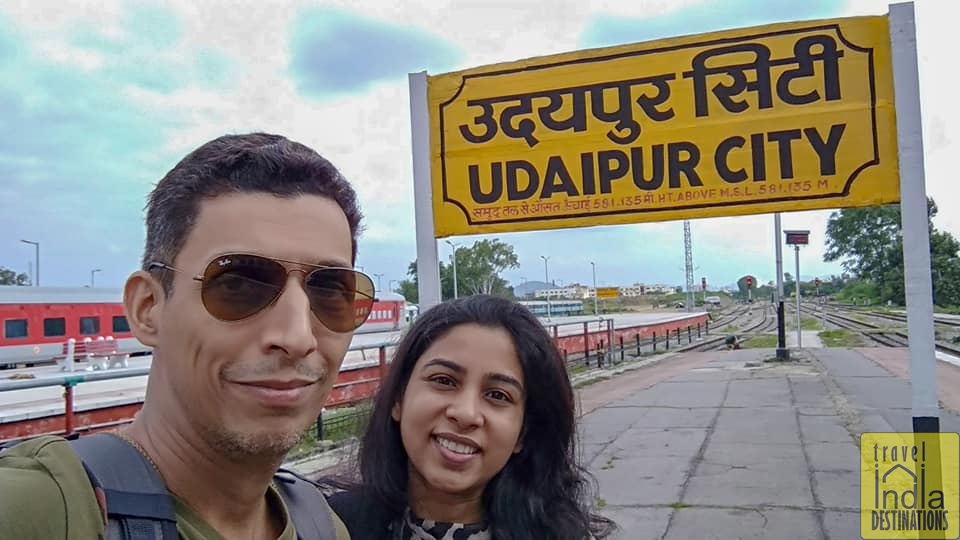 Speaking of people let me tell you that both I and Sarah are not exactly people-friendly individuals. We are reserved to an extent and hence we were really apprehensive about using the Airbnb option. Hotels are perfect for us because we book, we pay, we live and we check out, but they're expensive. Also, we wanted to try the AirBnB experience so we reluctantly booked our first homestay.
Our Uber Drivers
Even before we got to our AirBnB homestay we had our first share of interaction with the Uber drivers. We would say most Uber drivers in Udaipur are friendly, communicative and willing to share their thoughts and experiences.
Back in Mumbai, Uber drivers answer your questions, if you ask any, but that's about it. Udaipur Uber drivers proactively offered us plenty of local insights that helped us plan our Udaipur travel trip better. You see the difference here?
Note: We would recommend Uber over local taxis when you are touring different city attractions. However, please note that not all drivers are fluent in English, or use GPS. Also, not all locations in Udaipur have good GPS connectivity.
Samir, Shruti and Aunty Shuri – Our AirBnB Hosts
Our first interaction with Samir, Shruti and Aunty Shuri was more than enough to drive our apprehensions away. Yes, before booking we had read the reviews and testimonials on David's Bungalow AirBnB page. However, it was only when we met them personally that we were confident that this trip was going to be good. They only made our Udaipur travel trip memorable in many unexpected ways.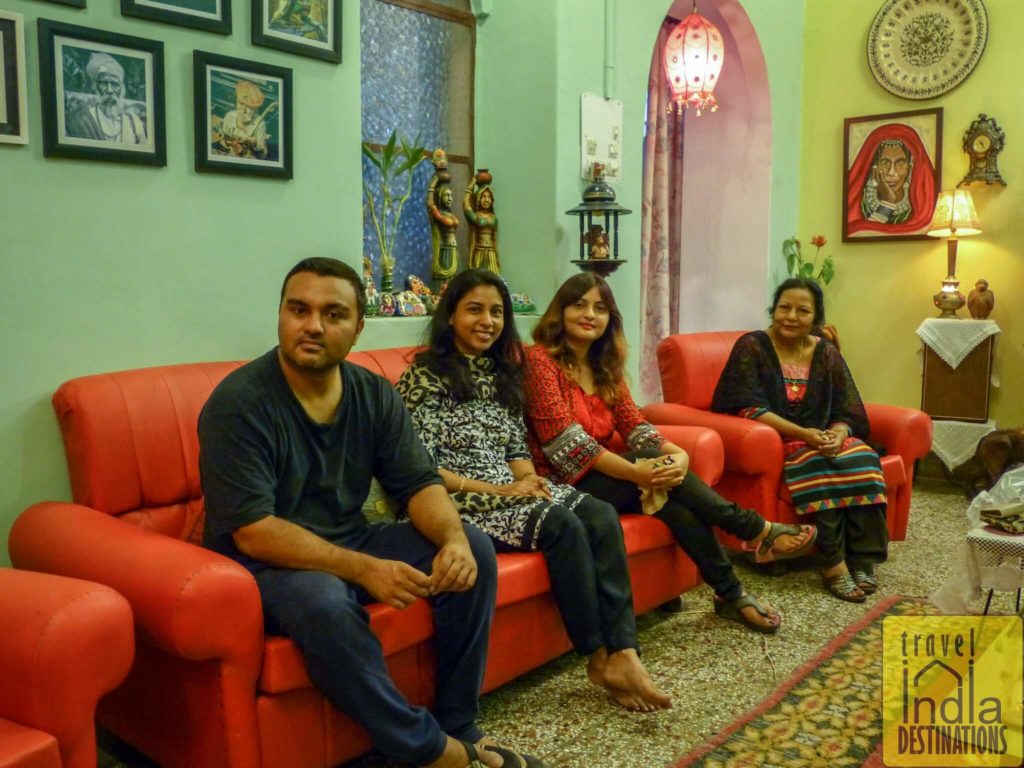 While we were generally not at home most part of the day but we had our moments. We were quite overwhelmed by the kindness, care and love that we received. For that, we don't have words to explain. We felt like we're visiting our relatives.
Nitesh – The Zipper Repair Guy
How often does one write about the zipper repair guy? Our Udaipur travel was our window into the lives of people we don't know, yet they made a place in our memory. Shortly, after our arrival in Udaipur, we had a broken zipper issue. Since we were new to the area we asked Samir about travel bag zipper repair shop. Luckily it wasn't far from our location and here I met Nitesh.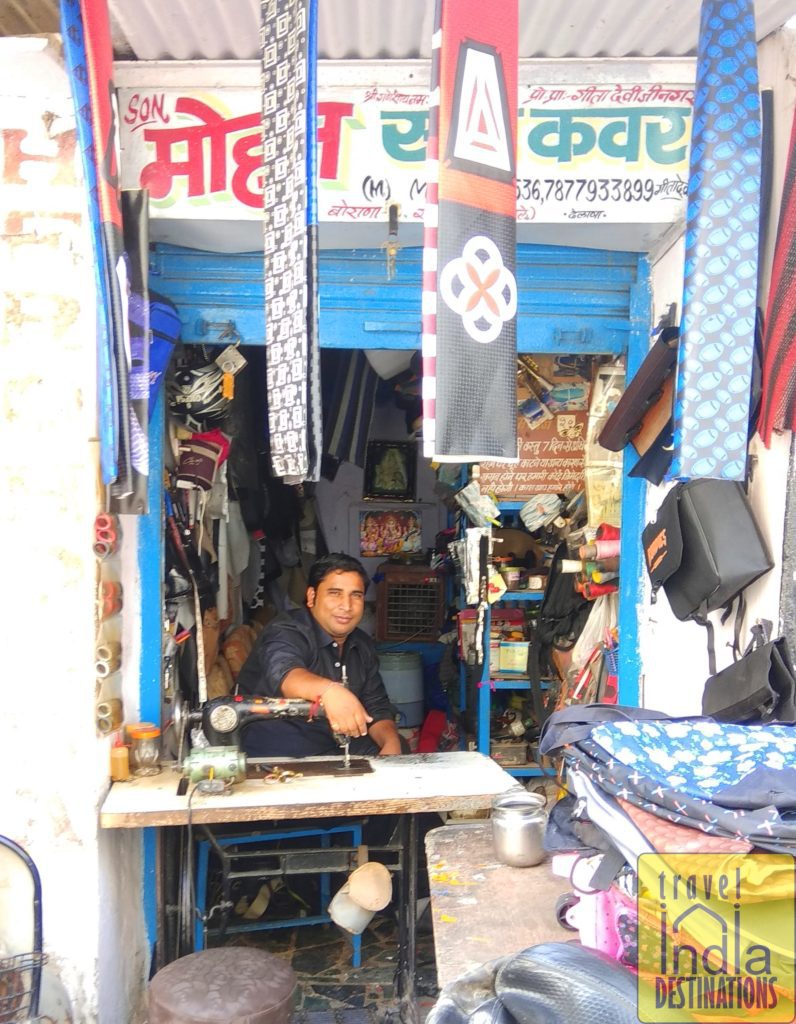 Nitesh manages Mohan Seat Cover and Bag Repair store on the Bedla Road in Fatehpura. He and his father own a tiny shop but he was very helpful. Also, he replaced the broken zipper on the backpack with some excellent quality ones.
We had some great conversations about our lifestyle and career. While talking to him, I realised the power of goodness. He not just fixed the zipper issue he made my day with all his positive and kind words.
Pushpendra – Our guide and friend
The next morning we had plans to meet Pushpendra who owns Walk and Pedal Travel Tours. We had arranged a bicycle tour in Udaipur and Daboo printing tour. He also arranged the Jagdish Temple and City Market tour. Also, our Upre by 1559 AD experience would not have been possible without Pushpendra's support.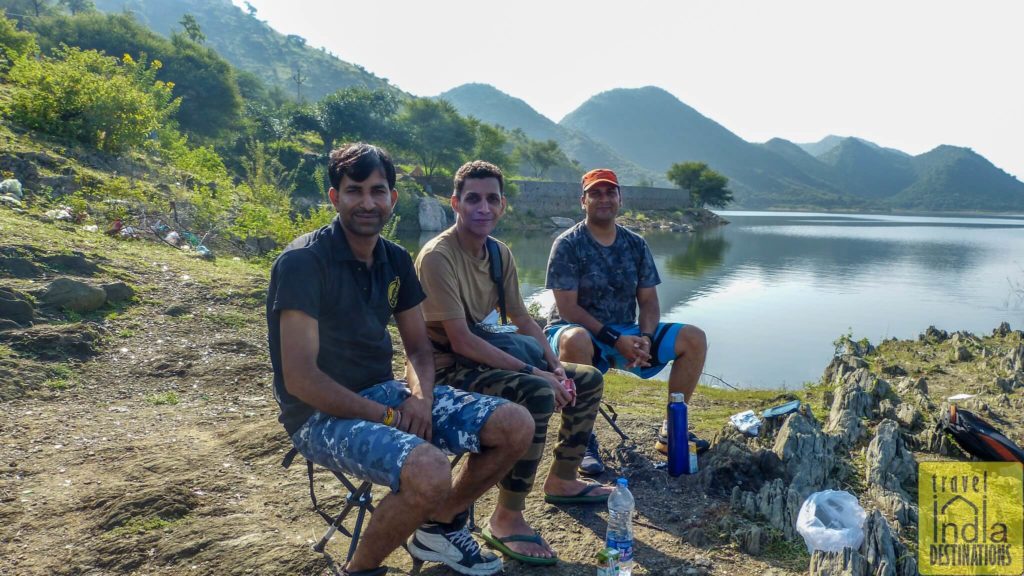 Even before we met, I had a certain mental image of Pushpendra mainly because of his academic excellence and higher educational qualifications. However, his down to earth persona proved me wrong completely. He just made me realized that people in Udaipur, no matter the financial status or educational qualifications are just so loving and caring at heart.
The best thing I liked about him is that in a time when most Indians are willing to settle abroad, he is utilizing all his foreign education qualifications and his skills and knowledge to start his business where his roots are. I wish him all the luck and success in his endeavours ahead. We thank Pushpendra for making our Udaipur travel experience better.
Natwar – Our City Palace Guide
While City Palace is the most popular local attraction in Udaipur it was almost the final destination on our Udaipur travel list. We wanted to save the best for the last. Natwar was assigned to us as the official City Palace tour guide and we really enjoyed his company for an hour.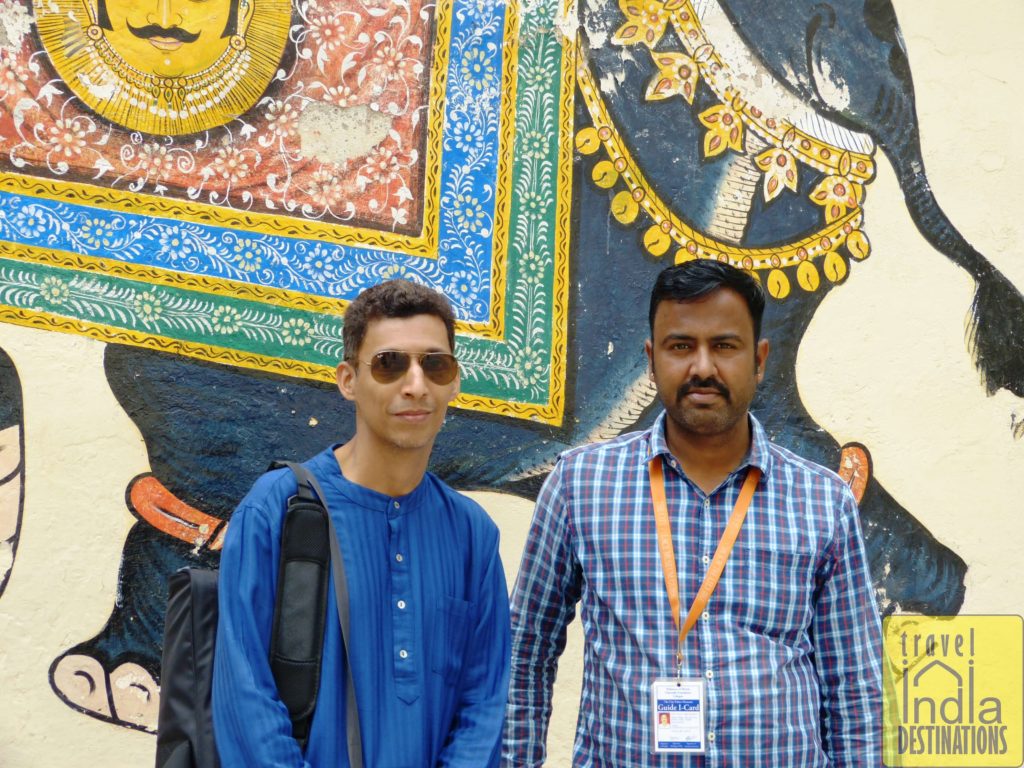 Being a registered guide for the City Palace he had plenty of knowledge about the Palace. He was patient because I and Sarah took plenty of pictures and sometimes we take a lot of time to take the shots we want. At times, Sarah has her own perspective of how she wants to shoot the picture. So, we take turns and that can be time-consuming.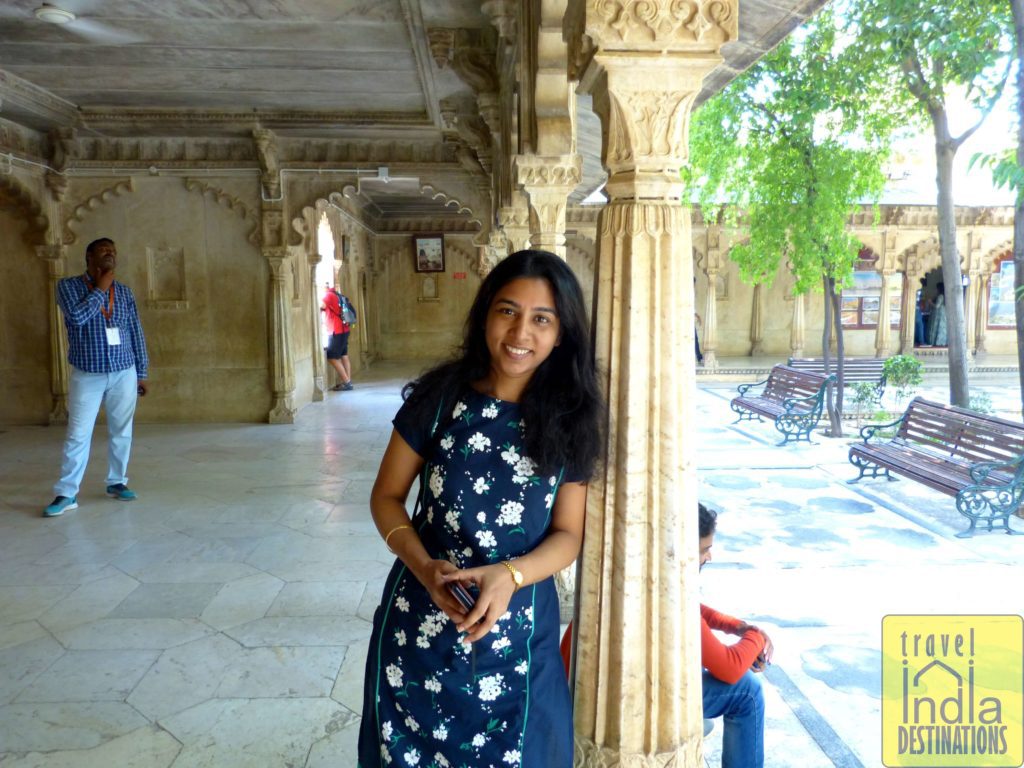 However, the best part about him was his sense of humour. Being a history person myself, I know it can quickly turn boring. Hence, it is vital that you share historic details with some level of fun and humour.
As we were circling the corridors of the palace he played some practical jokes on me, which might upset someone, but I was glad he did. It did make me seem like a fool but honestly, I enjoyed it. Sometimes, you must know how to laugh at your own foolishness, mustn't you?
Conclusion
So, what makes a city a city? It's the people, right? Of course, there is so much to see around the city, plenty to eat and even places to shop. However, in true sense travel experiences are all about meeting new people on your way, understanding their way of life, culture, traditions, history and much more.
We spent nine days in Udaipur exploring the city attractions, eating local food, exploring different facets of the city. However, what captured our attention the most was the simplicity of the people of Udaipur. This is what never makes it to the blogs and travel magazines. We thank the people of Udaipur in making those nine days memorable forever.